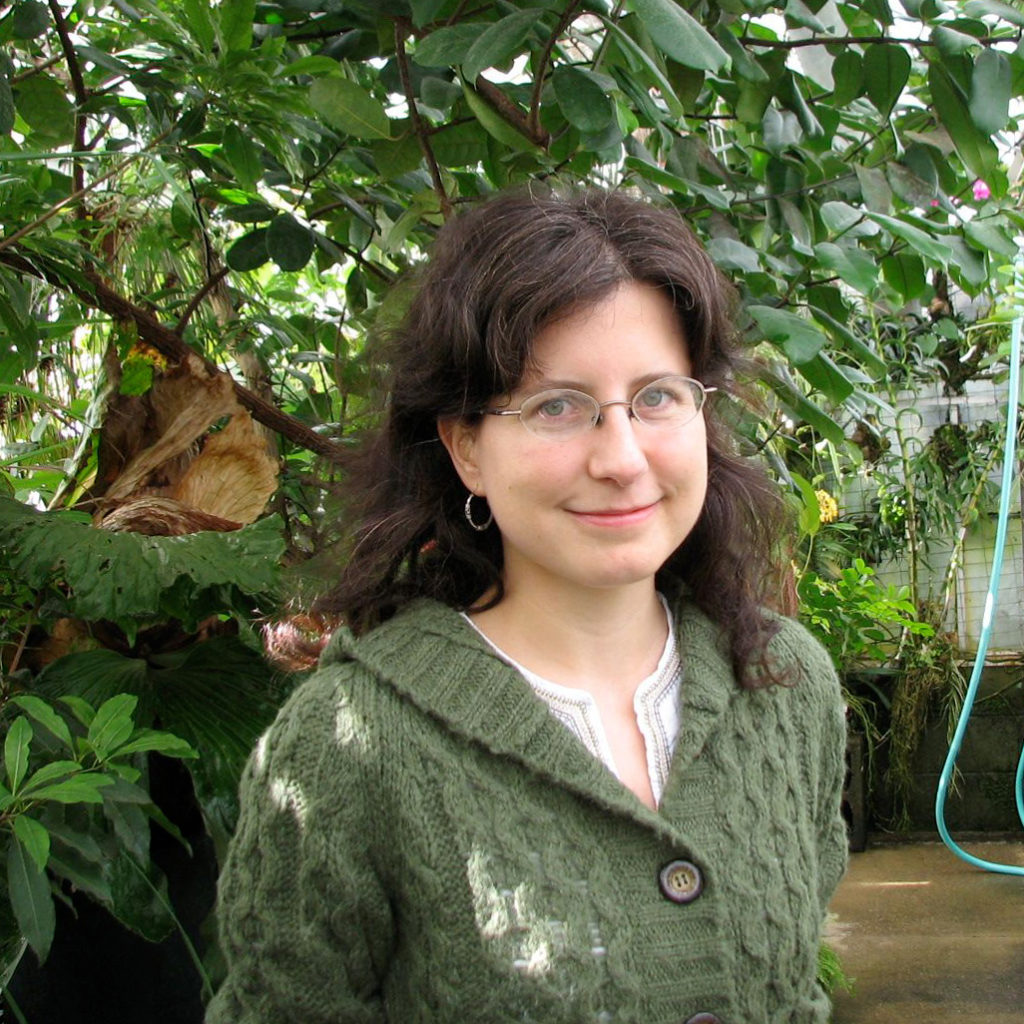 Ana L. Caicedo
PRINCIPAL INVESTIGATOR
Ana obtained her B.S. in Biology in 1996 at the Universidad de los Andes in Bogotá, Colombia. She left the lofty peaks of the Andes for the (flatter) environment of the Midwest U.S. to attend graduate school at Washington University in St. Louis; there she studied the population genetics of disease resistance genes in wild tomatoes and received her Ph.D. in 2003. During a postdoc at NC State, she carried out research on the evolutionary genomics of rice domestication and the population genetics of floral timing genes in Arabidopsis thaliana. Ana joined the UMass Biology faculty in 2006.  Her current research interests include the genetic basis of adaptation, the genomics of plant domestication, and the population genetics of diversification within and between species.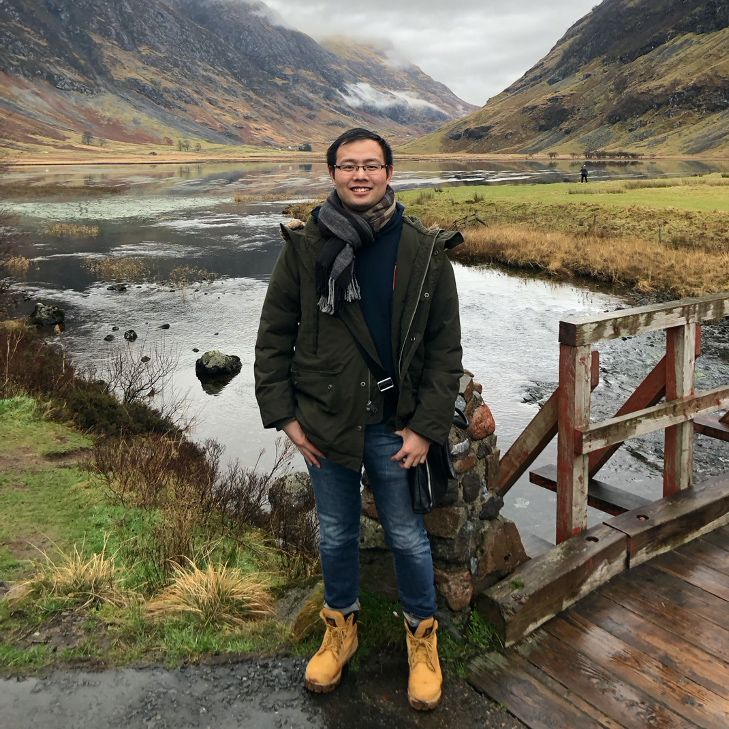 Xiang Li
PhD student, Plant Biology
Xiang is a PhD candidate in the Plant Biology Graduate Program. He rotated in the Caicedo lab in 2017 Fall and joined the lab in summer 2018. Plant and evolution are his favorite topics. He is interested in understanding phenotypic outcomes from diverse perspectives: evolutionary, developmental, genetic, and genomic. His current work focuses on the genetic and morphological basis of seed dispersal in three independently evolved weedy rice lineages to understand the mechanisms of convergent evolution. You can follow his work on twitter @xiang68698752.
e-mail: xli4_at_umass.edu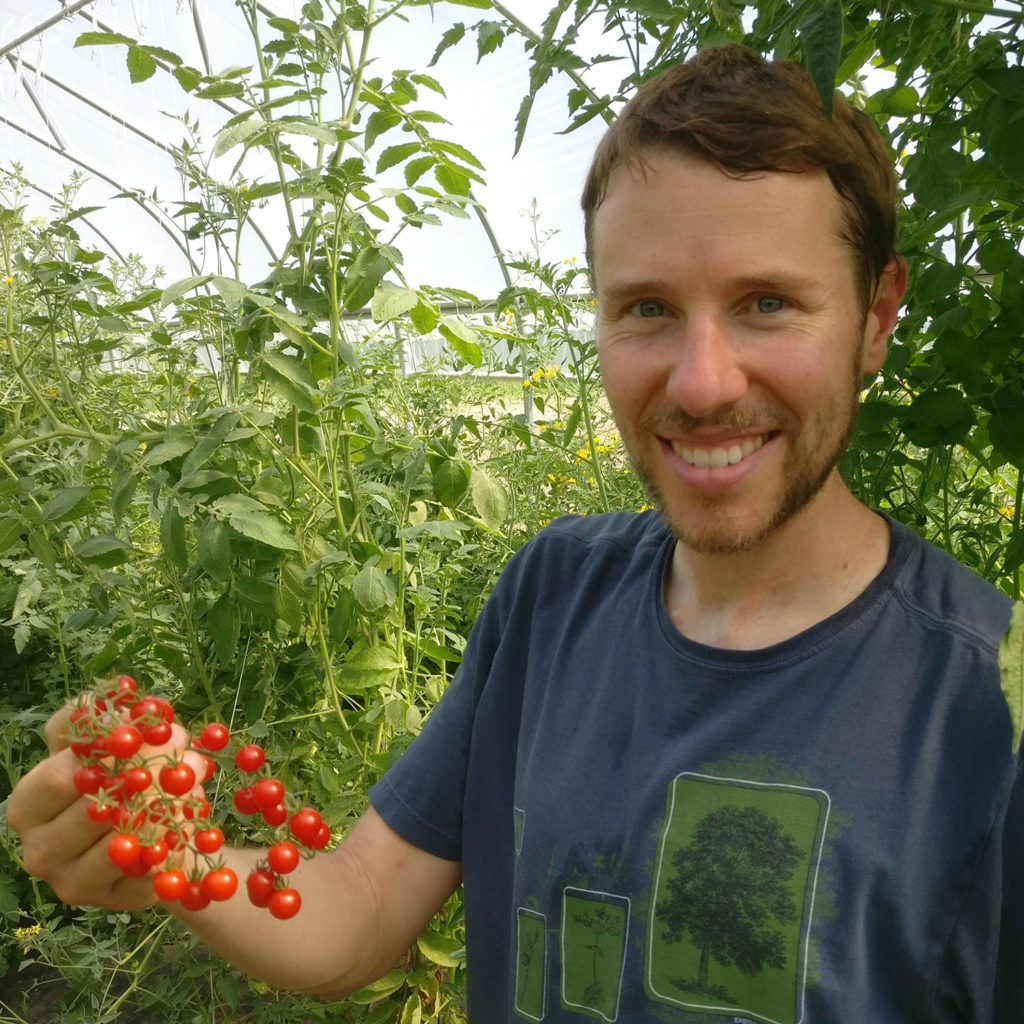 Jake Barnett
PhD student, Organismic and Evolutionary Biology
Jake is a PhD candidate in the Organismic and Evolutionary Biology program and has been a member of the Caicedo Lab since Fall 2018. He received a B.S. in Biology from Cornell University in 2007 and a M.Ed. in Science Education from Lesley University in 2011. Before coming to UMass, he worked as a middle and high school biology teacher in the Boston suburbs for 6 years. He currently is studying tomato wild relatives from South America, using genetic and genomic tools as well as greenhouse and farm planting trials to investigate the ecological and evolutionary drivers of fruit trait divergence in this remarkable clade of plants. His broad interests in evolution, agriculture, and science education drew him to this charismatic system – not to mention he really enjoys eating tomatoes! You can follow his adventures with #jakestomatoes on Instagram.
e-mail: jbarnett_at_umass.edu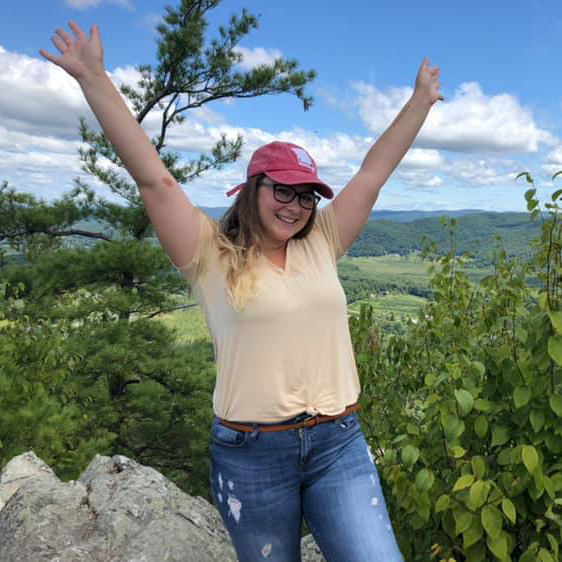 Rachel Tavares
PhD student, Plant Biology
Rachel is a PhD student in the Plant Biology Graduate Program. She rotated in Fall 2019 and joined the lab in Spring 2020. She is most interested in endophytic microbes in weedy versus cultivated rice species. Previously, she worked at the Donald Danforth Plant Science Center studying abscission zone development and using Setaria protoplast cells to create plant sensors. 
e-mail: rltavares_at_umass.edu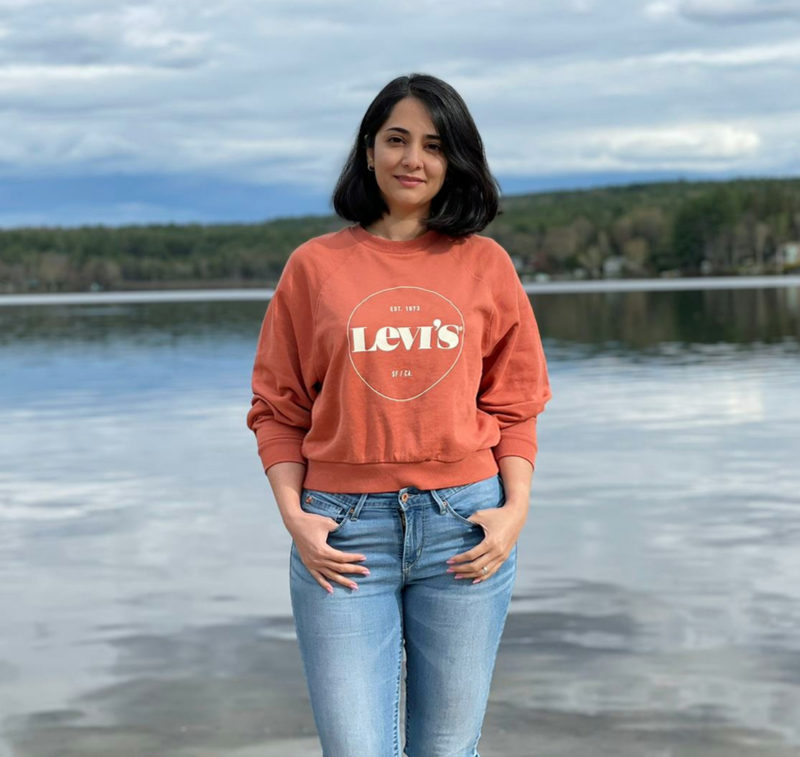 Maryam Rashidzade
PhD student, Plant Biology
Maryam is a Ph.D. student in the Plant Biology Graduate Program. She rotated in Spring 2021 and joined the lab. She received B.S. and M.Sc. in Horticulture from the University of Tehran, Iran. She is mostly interested in population genetics, evolution, and plant-pathogen coevolution. 
e-mail: mrashidzade_at_umass.edu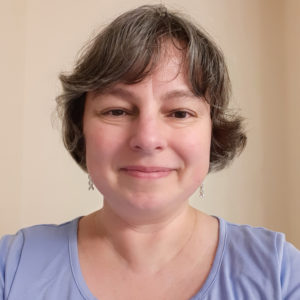 Ludmila Tyler
Collaborator
Ludmila Tyler is a Senior Lecturer in the Biochemistry and Molecular Biology Department.  Her interests include the genetics, cell walls, and developmental biology of plants, as well as bioenergy and undergraduate education.  In the lab, her focus is on the genomics and natural variation of the model grass Brachypodium distachyon.
e-mail: ludmilat_at_umass.edu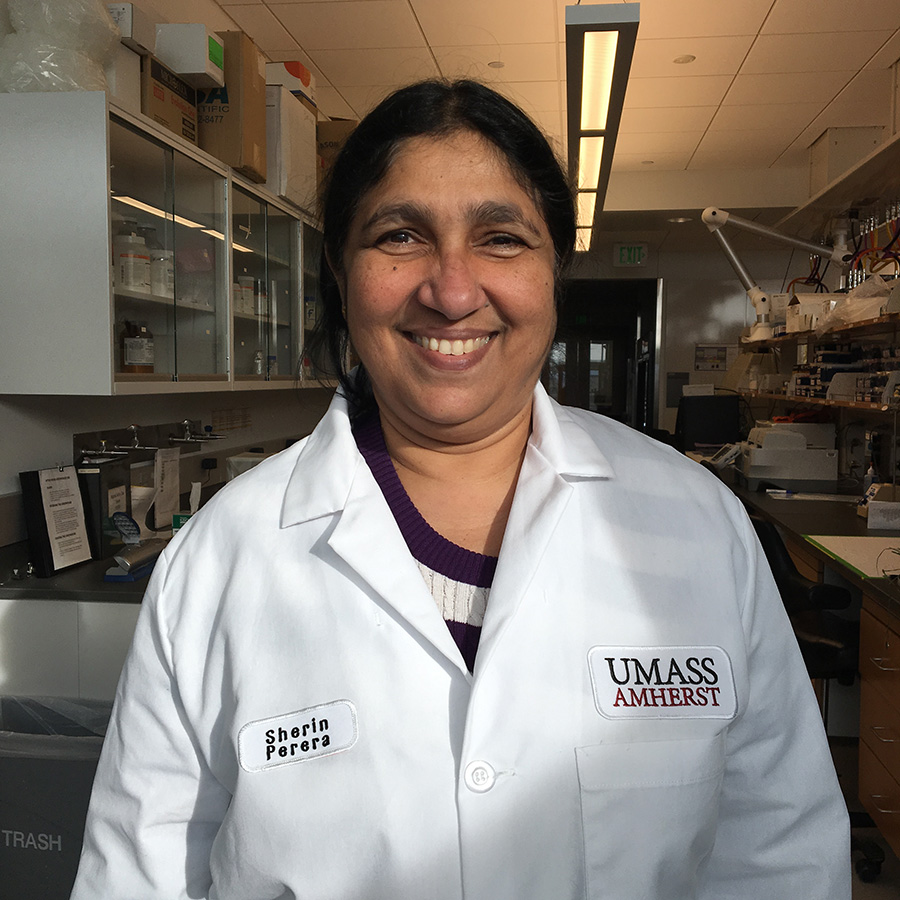 Sherin Kanthi Perera
Technician
Sherin received her B.S. in Biology in 1987 at the University of Peradeniya, Sri Lanka. She has a Post Graduate Diploma in education too. For many years Sherin was a high school biology teacher in Sri Lanka. After immigrating to the U.S., Sherin volunteered for a summer in the lab and got some hands-on experience in rice phenotyping, DNA extraction, and challenging PCRs. Since then, she has been working in the lab as a technician. Sherin's knowledge of rice growth and agriculture has proved to be a great resource for all, and her tasty Sri Lankan dishes are addictive.
e-mail: sherine_at_bio.umass.edu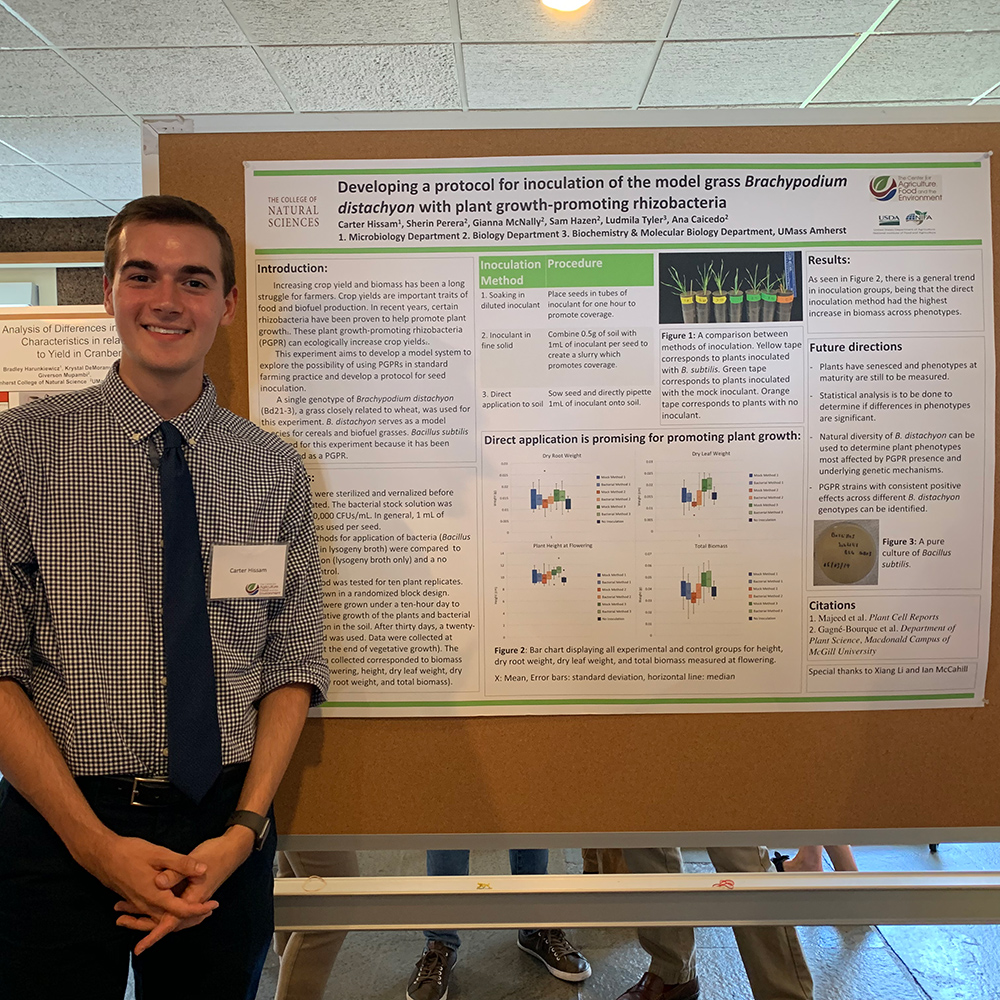 Carter Hissam
Undergraduate researcher
Carter is a microbiology major from Charlotte, NC. He joined the Caicedo Lab his first semester at UMass to assist a Ph.D. candidate in determining a genomic sequence that codes for seed-dispersal traits in weedy rice. During the summer of 2019, he became a summer scholar for the Center of the Agriculture, Food, and the Environment and aimed to elucidate microbial associations that improve plant growth in a model grass species, Brachypodium distachyon.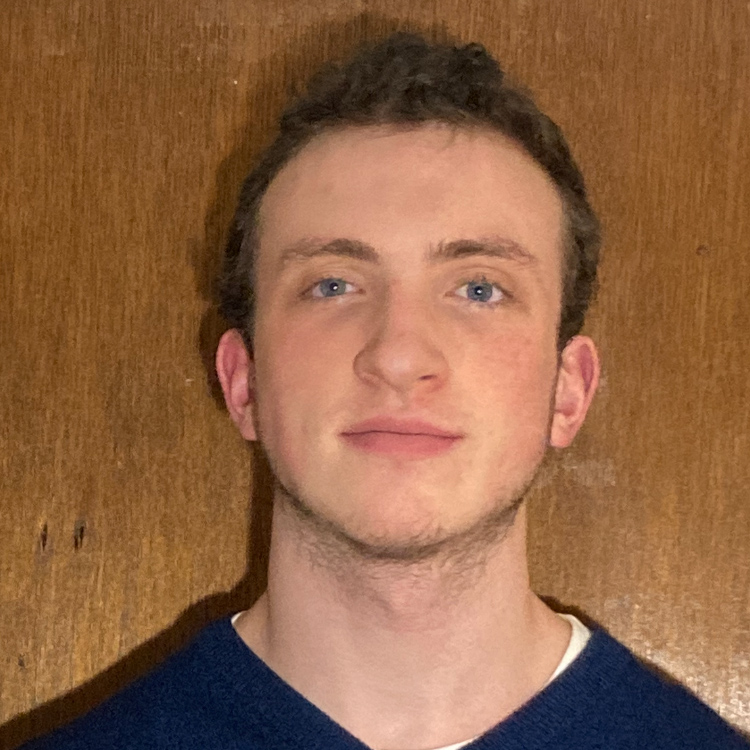 Daniel Lowey
Undergraduate researcher
Daniel is a Biology major from Foxborough Massachusetts. The fall of his freshman year, he joined the Caicedo lab to assist Xiang Li with his research regarding weedy rice. His work includes collecting seed shattering data, plant care, changing/making various solutions, and his personal favorite, RNA extractions with liquid nitrogen! Although Daniel has a lot to learn, he's excited to continue his work and learn new techniques.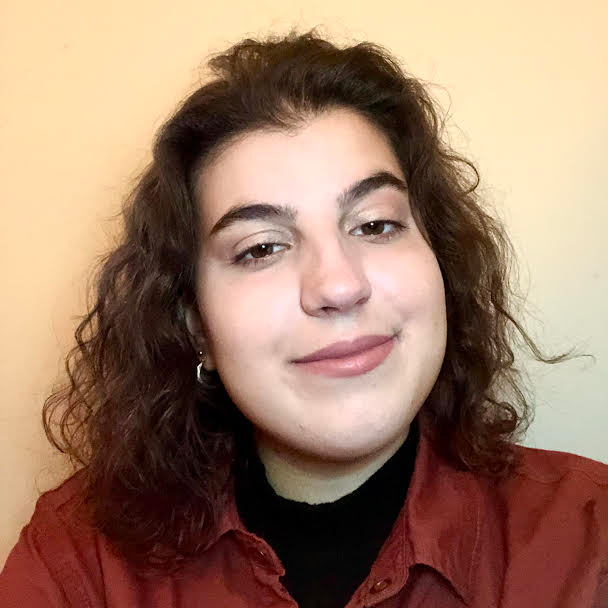 Gina Buonauro
Undergraduate researcher
Gina is a biology major from Fair Lawn, NJ. She joined the Caicedo Lab in spring 2020 to assist a postdoctoral researcher in determining the role of the NPG1 gene in tomatoes. She is currently assisting a PhD candidate in researching the evolution of sugar genes within the
tomato clade. In spring 2020, she received the Ethan Ray Torrey Scholarship in hopes to advance her research and education in plant biology.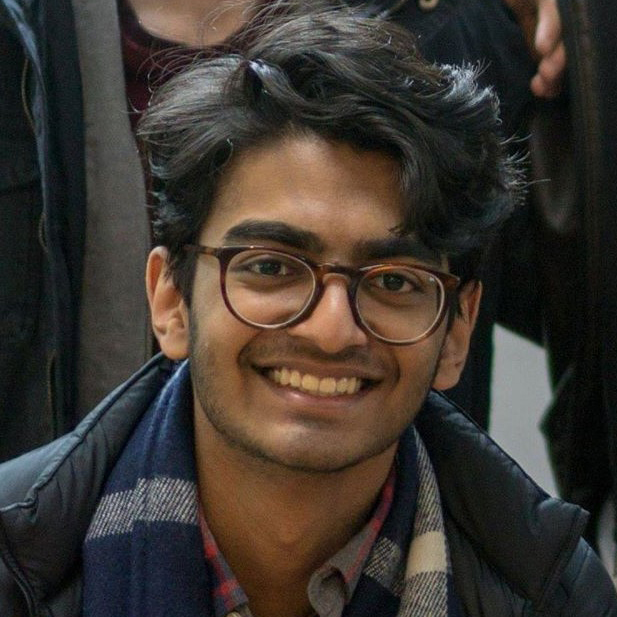 Rovin Sharma
Undergraduate researcher
Rovin is an undergraduate biology major from Greater Boston. Since joining the Caicedo lab in 2019, he has worked on analyzing and visualizing the morphological differences within wild tomato species. He's also interested in the evolutionary history and biochemical applications of tomatine, a glycoalkaloid found in tomatoes.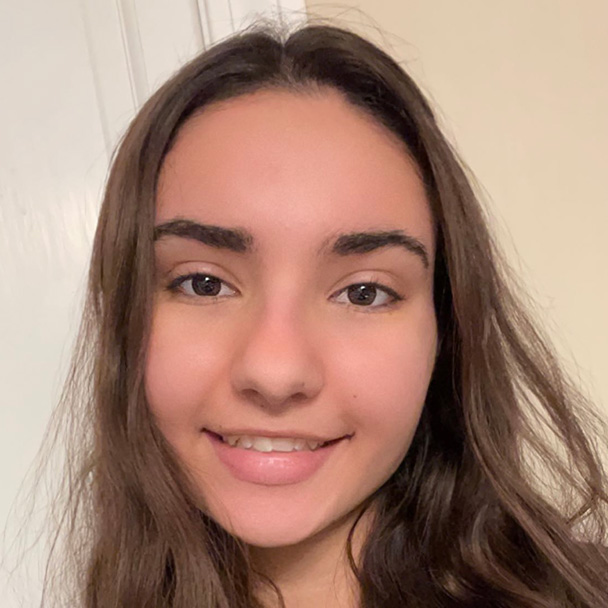 Phoebe Antonio
Undergraduate researcher
Phoebe is an undergraduate microbiology major from Fairhaven, Massachusetts. She came to Caicedo lab in spring 2020 to continue another undergraduate's research on genetic diversity and population structure of dodder, a parasitic plant found in local cranberry bogs. Phoebe is focusing on differentiating species using genetic markers and is attempting to grow dodder in the UMass greenhouse. She is interested in learning more about this understudied plant species.

Hamid Razifard
Postdoc 2016-2020
Where they went: Postdoctoral researcher, Margaret Frank's lab, Cornell University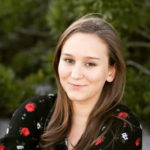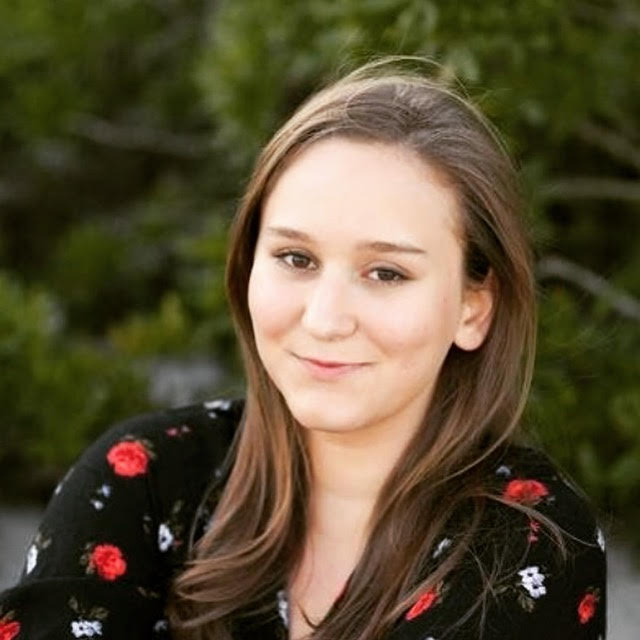 Gianna McNally
Undergraduate Researcher 2019-2021
Where they went: Suffolk University Law School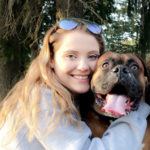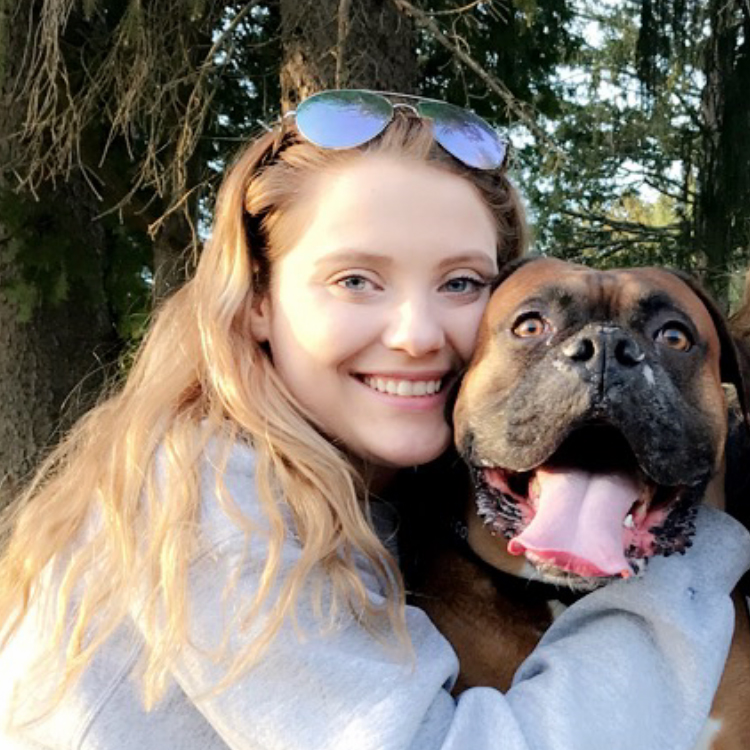 Jessica Lessard
Undergraduate researcher 2019-2021
Where they went: Temple University School of Pharmacy

Jacob Scott
Undergraduate researcher 2017-2020
Where they went: Biology graduate program, University of Florida

Ian Gillis
Plant Biology PhD student, graduated 2018

Zhongyun Huang
Plant Biology PhD student, graduated 2017
Where they went: Principal Scientist at Roche Bioinformatics

Verónica Hoyos
Visiting PhD student 2015-2016
Where they went: PhD in Agronomic Engineering, Universidad Nacional de Colombia

Altynay Zhanayeva
Plant Biology MSc student, graduated 2017
Where they went: Al-Farabi Kazhak National University

Stephanie Craig
Plant Biology MSc student, graduated 2013
Where they went: OMS III at Lake Erie College of Osteopathic Medicine

Guido Armando Plaza Trujillo
Sabbatical Visitor, 2016
Where they went: Faculty in Ciencias Agrarias, Universidad Nacional de Colombia

Katie Hyma
Postdoc 2011-2012
Where they went: Cornell University Institute for Biotechnology

Michael Reagon
Postdoc 2007-2010
Where they went: Dept. of Evolution, Ecology, and Organismal Biology, Ohio State University, Lima

Ned Young
Bioinformatician 2012-2014
Where they went: Science teacher at Amherst Regional High School

Carrie Thurber
Plant Biology PhD student, graduated 2012
Where they went: Quality Control Editor at Research Square Company

Shulin Zhang
Visiting Researcher 2015-2016
Where they went: Anyang Institute of Technology, China

Madelaine Boyle
Undergraduate researcher 2016-2018
Where they went: Build Engineer at Ginkgo Bioworks

Shannon Kelly
Undergraduate researcher  2015-2016

Madelaine Klein 
Undergraduate researcher 2014-2016
Where they went: Clinical Research Coordinator, Massachusetts General Hospital

Rika Matsuo
Undergraduate researcher 2015-2016
Where they went: Renaissance School of Medicine

Angelina McKenna
Undergraduate researcher 2016-2017 
Where they went: Clinical Research Assistant at Beth Israel Deaconess Medical Center

Deborah Tschong
Undergraduate researcher 2013-2015
Where they went: Clinical Research Associate Lahey Hospital and Medical Center

Colette Kramer
Undergraduate researcher 2014

Katherine Day
Undergraduate researcher 2012- 2014
Where they went: Pharmacy Manager at Walgreens

Sara Goodwin
Undergraduate researcher 2011-2015 

Jorge Rodriguez
Visiting undergraduate student 2013
Where they went: Universidad Nacional de Colombia

Lauren Resnick
Undergraduate researcher 2010-2012
Where they went: Master of Education (MEd) at University of Massachusetts Boston

Rafaela Dos Santos
Undergraduate researcher 2010-2012

Lauren Bishop
Undergraduate researcher 2010
Where they went: Master of Social Work, Springfield College

Justin Nicholatos
Undergraduate researcher 2009-2010
Where they went: Postdoctoral Scientist at Biogen

Nicole Eckart
Undergraduate researcher 2008- 2010 
Where they went: Senior Applications Scientist at 10x Genomics

Mona Salameh
Undergraduate researcher 2007-2008 
Where they went: General Dentist at Pacific Dental Services

Neil Kalra
Undergraduate researcher 2007-2008
Where they went: Server Administrator at UMass Memorial Medical Center

Daniela Schmieder
Undergraduate researcher  2007
Where they went: Doktorarbeit, Max-Planck Institut für Ornithologie
Mario Moreira: Undergraduate researcher 2008
Alden Nichols: Undergraduate researcher 2019
Elizabeth Manser: Undergraduate researcher 2017
Audrey Della Valle: Undergraduate researcher 2017-2018
Amy Wang: Undergraduate researcher 2016-2017
Ignacio Armario Blanco: Visiting PhD student, Centro de Investigación "Finca La Orden-Valdesequera", Guadajira, Spain 2018
Shira Penner: Visiting PhD student, Tel Aviv University, Israel, 2018
Fabbiha Hossein: Undergraduate researcher 2019-2020